Learn WordPress & build a website in ONE day for £145.
WordPress is the world's best and most popular website builder and this hands-on course takes you through from the basics, including installation and set up, to cover all the most useful features and tools WordPress offers. Whether you already have a site and want to manage it properly or are starting completely from scratch, this is the course for you.
You will learn to…
set up and run a great website of your own
add content, images and videos
add structure and navigation menus
apply an attractive design using easy templates
make the site search engine friendly
add contact forms, maps and take payments
add social networking and track visitors
learn to add all the features and functionality you need to run and develop a fantastic website
and much, much more…
Get your own domain name
After the course, we can set your site up on any UK domain name of your choice, brand new or an existing one you already own. You can then keep the site after the course, hosted for free for one year. After that, hosting is available from just £8/mo for our unlimited WordPress hosting package.
WordPress Training Course – Topics Covered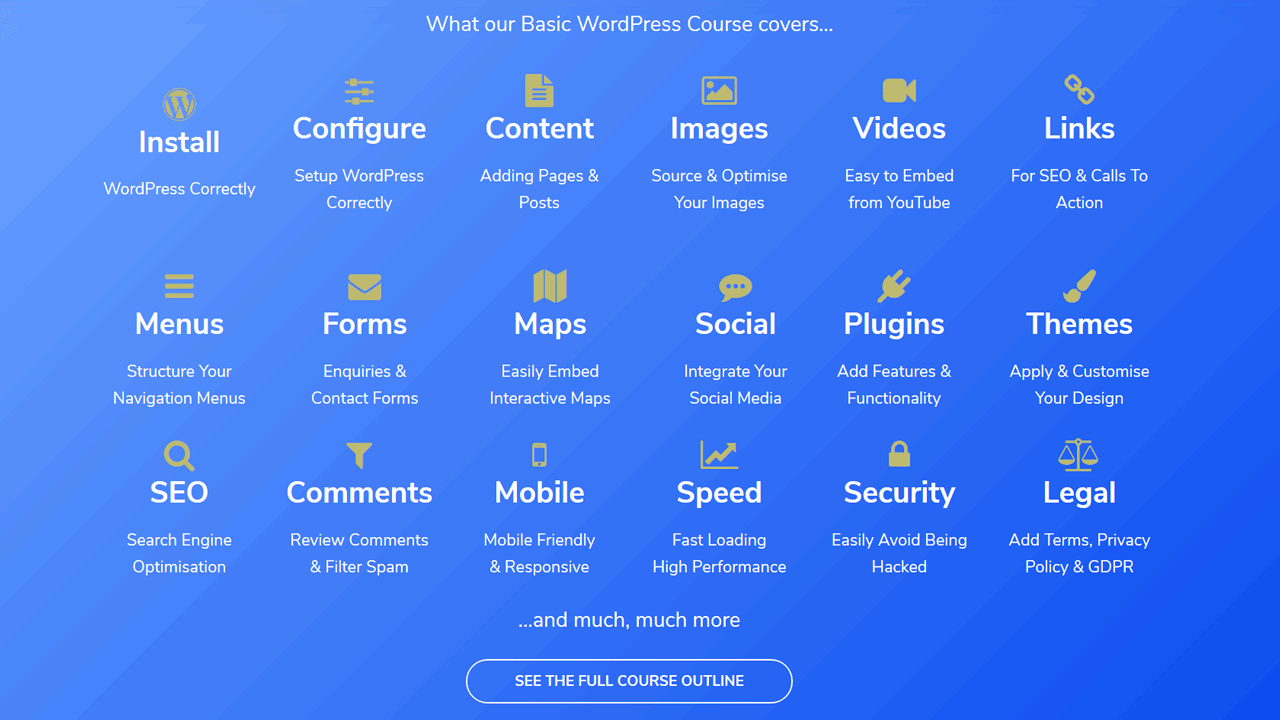 Introduction to WordPress
Install, set up and update WordPress automatically
Admin Panel, Settings and Basic Configuration
The Gutenberg editor and using blocks
Creating pages and posts… and understanding the difference
Sourcing, editing and uploading images
Add videos from YouTube
Users, categories and links
Comments and avoiding spam
Organising your posts and articles into a blog
Add and customise the top navigation menus
Research, choose, upload, install and update the best plugins
Research, choose, upload, install and update the best themes
Customise themes with colours and navigation menus
Insert a logo which automatically links to the homepage
Add sidebar widgets for search, social media, static and dynamic content
Ensuring a responsive, mobile friendly design
Themes vs frameworks
Why and how to use the industry-standard Genesis framework
Add contact forms to receive visitors' enquiries
Add an interactive Google Map so visitors can find you
Create a product/sales page and buy now button
Take easy online payments with PayPal
Automatically create search engine friendly XML sitemaps
Using SEO (Search Engine Optimisation) plugins to rank well
Keyword research and SEO strategies to rank well on Google
Security, stability and backing up
Backup your site the easy way
How to get visitors/traffic and track it with Google Analytics
Facebook, Twitter and social networking
RSS Feeds – stream external news and content on your site
Legal Requirements, EU Cookie Policy and Data Protection
Adding sitemap, privacy policy and terms & conditions easily
Make your site easy to navigate, accessible and print friendly
Auto Translate – have your site translated into any language for free
WordPress features and benefits for the small business, company, individual or charity
Making money out of your website
Our WordPress training courses also include advice to help you…
Choose and buy a good, search engine optimised domain name
Get the best hosting for your WordPress website
Apply your chosen domain name to your website, using DNS settings
Set up email addresses
Get the best tools and services for various aspects of the site – mostly free, some paid – a comprehensive list of useful resources is included
Our WordPress training courses are perfect for anyone who…
Wants to create a website they can manage themselves
Already has or runs a WordPress site and wants to know how to manage it properly
Wants to know best practises and save time avoiding all the pitfalls and delays
Is frustrated with paying web developers to build and manage websites for them and wants to take back control!
Wants to earn additional income by building or selling websites
Wants a new career or a new skill to enhance their CV
How the course works
Please bring your own laptop: PC, Mac or Chromebook, any is fine. Or you can hire a laptop for the day here.
WiFi and power sockets are provided
No experience is needed – WordPress is incredibly easy to pick up and you will be free to go at your own pace throughout the day.
All training materials will be provided after the course, so there need be no fear of "falling behind".
This is an intensive course and assumes a reasonable working knowledge of using computers and the internet, even if you have little or no prior knowledge of WordPress. If you are comfortable with using email, copy/paste, saving files/folders and navigating the internet, you should be fine! (see more advice in our FAQ here)
After the course you are welcome to stay around for further discussion with your trainer Toby and with each other, about WordPress, about your website and about your business.
After the course, you will be sent all the course materials and clear instructions for setting up your site on its own domain name (old or new). You will have a year of free hosting, after which time it is from just £8/mo for unlimited space and bandwidth.
See more advice on PC vs Mac, paying for the course and much more in our FAQ here.
What our WordPress course covers
Please note this video is two years out of date (sorry!)
However, it still gives a useful visual overview of what the course covers